The Effects of Cold Weather on your Smartphone and how to Stop Them
As winter slowly encompasses the Earth in its frozen embrace, it's more than just your body that begins battling the effects of the cold. Yes, your extremities are threatening to fall off. Yes, your immune system is weaker than ever before and yes, you're now living in constant fear of slipping on ice and fracturing your skull. However, there is something far more important for you to worry about:

Is the Cold Destroying your Smartphone?
Typically, as long as the temperature stays close to 0 Celsius, your phone should function just fine. However, with predictions of a harsh winter, 2016 might be looking to take yet another thing from you before it comes to an end, your smartphone. As the temperature drops into the negatives, there are certain effects that you might notice your Android and iOS devices succumbing to:
Battery Life Drain
The electric current that a battery generates is produced by connecting a positive terminal with a negative one. This causes a chemical reaction to take place that produces electrons to supply the current of the battery. However, in low temperatures, chemical reactions become slower. Therefore, when a battery is used in cold conditions less current is generated than at a higher temperature. Once the battery runs down it quickly reaches the point where it cannot deliver enough current and will stop functioning. Once it's warmed up again, it will usually begin to operate normally.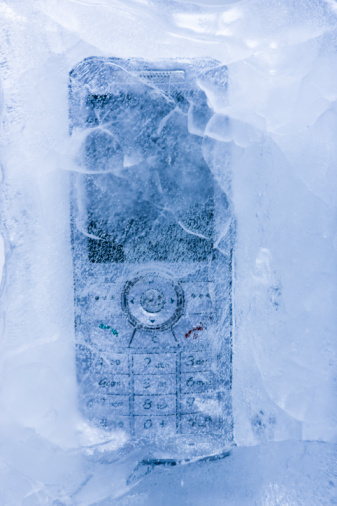 Touchscreen Issues
If your smartphone has an LCD display it is more susceptible to the cold than AMOLED displays. Users may begin to experience that their touchscreens react slower. In some cases they will even notice smudging and ghosting effects on text and colours. Dropping your phone in the frozen months is even more dangerous than usual for your screen as it is more likely to shatter since the cold makes the display panel rigid.
External and Internal Component errors
For those of you living in extremely cold conditions, it is possible that various errors will begin to pop up on your smartphone. This can include anything from your device having difficulty reading your SIM card to being unable to process a number of functionalities that it should normally have no problems with. Finally, recent surveys have shown that more claims for smartphone insurance are made during or after a snowfall than at any other time in a year. This is due to the fact that, especially when looking at older models, dropping your phone in a pile of snow can very well be its death sentence.
What can you do to protect your device?
The simplest solution is to limit the use of your smartphone out in the cold. Leave it in your pocket, jacket, bag or purse and wait until you're in warmer conditions before taking it out again. Ideally, a pocket will give your phone the added benefit of your body heat, making it the ideal spot in the frozen months. Using headphones with an inbuilt microphone and control centre allows you to listen to music and answer phone calls without ever having to expose your device to the cold and using voice assistants like Siri can grant you a number of further functionalities. Don't leave your smartphone in a cold vehicle for extended periods of times, especially overnight, as this can cause permanent internal and external damage. Finally, keep your phone away or protected from dangerous activities such as winter sports or ice skating. Alternatively, a weather proof case can greatly secure your device from an early, frozen grave this winter.
Other content that might be interesting for you:
Testbirds specialises in the testing of software such as apps, websites and Internet of Things applications by using innovative technologies and solutions. Under the slogan, "Testing Reality", the company offers various testing methods to its clients looking to optimise the user-friendliness and functionality of their digital products. With over 250,000 registered testers located in 193 countries, Testbirds is one of the world's leading crowdtesting providers. In addition, the IT service provider utilises cloud based technologies to support customers in the optimisation of their digital products. The combination of the two testing methods delivers a unique and extensive portfolio that takes the quality of software to the next level. Testbirds was founded in 2011 by Philipp Benkler, Georg Hansbauer and Markus Steinhauser. Today, the company has over 100 employees. Other than its headquarters in Munich, there are now offices in Amsterdam, London and Stockholm, franchises in Hungary and Russia and sales partners in Italy.
© Testbirds GmbH. All rights reserved.